The Original and the best vintage Fiat 500 and Vespa company
Sunset Wine Tasting Fiat 500 Tour
---
You have dreamed of a
romantic Italian getaway
, get ready to make that dream a reality with our vintage
Fiat 500 Sunset Drive and unique Wine Tasting
experience.
Your adventure is shaped from the start with the
fantastic and compelling narrative of the Fiat 500 history,
its relevance in Italian history. After you have become familiarized with your car and understand its personality, our guide will lead the convoy on the
adventure of a lifetime
.
The
gentle hum
of the engine, the feel of the
meandering roads
opens us to the breathtaking view of the tuscan hills and as we drive into the past, we are exposed to the historic
Tuscan Villas, cypress lined roads endless vineyards
and captivating olive groves.
At our stop you will enjoy a Spritz cocktail followed by a
wine tasting and sampling of the best local Tuscan cheeses and meats.
This adventure will warm your heart with
memories that will last a lifetime.
ATTENTION SPECIAL STARTING TIME FOR THIS TOUR
February 1st to March 31st (start time: 16.00)
April the 1st to October the 1st (start time: 17.30)
October 2nd to January the 1st (start time: 16.00)


** Prerequisites: Driving with Manual Transmission experience, Valid credit card, Valid Driver's License.
If you are not proficient with Manual Transmission, check out our Vespa Tours!
The tour starts and ends at our Clubhouse in Via Gherardo Silvani 149 A. For more info see FAQs
---
Time : 5.30 pm-8.30 pm
Place : Via Gherardo Silvani 149 A, Firenze
Price : $ 125 per person
Highlights :
Rare opportunity to drive an iconic Vintage Fiat 500
Spectacular hillside vistas
Enjoy spectacular Tuscan sunsets
Full Tour Commentary from an experienced guide
Award Winning Chianti Wine Tasting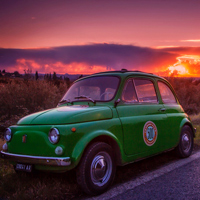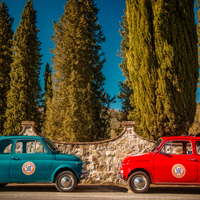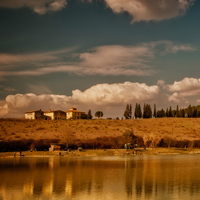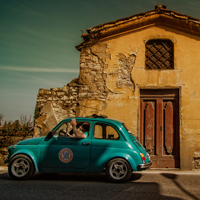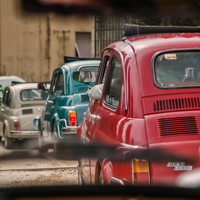 Top