The Original and the best vintage Fiat 500 and Vespa company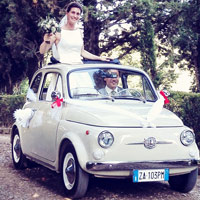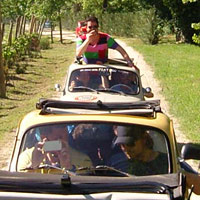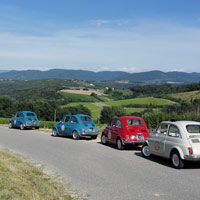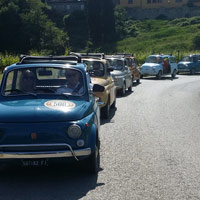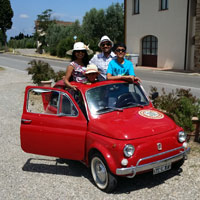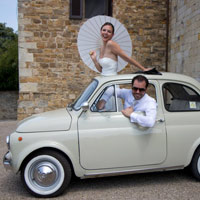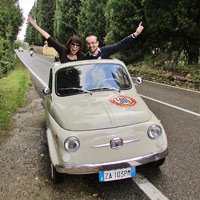 Private Hire
Nothing says "I am Italian" more than driving around in a Vintage Fiat 500! We have had made it simple and easy for you to experience renting a Vintage 500 so that you can drive at your leisure through the Tuscan countryside for a "Full Day" experience.
This car is so iconic in Italy locals will be asking YOU for directions (Happens often!)

The Full Day Rental of a Vintage Fiat 500 is $290.00.
Pickup times are 8:30am or 11am. Return times are 5:00pm or 8:30 pm.

Book Full or Multi Day Rental

Rental Details
At the time of your pickup, from our Clubhouse, you will receive a 20min detailed orientation on the special features of driving a "Double Clutch" manual gear shift and all the unique features of the Viantage Fiat 500.
At our Clubhouse there is ample room for you to test drive the car and be comfortable before getting out on the road.
As with any rental of a car there are standard legal documents to review and those can be found on our Terms and Conditions page.(click to be directed there).

Simple restrictions would include a 100km maximum distance per day. NO use of the Autostrada (these cars pre-date highway speeds). Rentals do not include permits through any Zone Restricted Areas (ZTL) in the center of most historic cities. You will need to obtain those clearances at the individual control points.
For instances in Historic Florence Center the restricted zone is called the ZTL, and requires a permit to enter. This does not allow you to park within the zone, only allows access through. If you would like to stop to take in a site, you would be required to find a garage to park inside the zoned area.

Our rental fee does not include any permit or parking fees.

» Pick up and Return from our Clubhouse, located just outside the city center of Florence
» Rental includes a Full Tank of Gas, please return with Full Tank or additional fees will apply
» Baby Car Seat available if requested
» Standard 3rd Party Liability Insurance
» Choice of Car from our Fleet

» Delivery or Return to any other location
» Permits to enter any restricted areas (ZTL)
» Parking Permits
» Toll Fees or Fines
» Guide; this is a chance to get out and explore on your own!
Private Hire Frequently Asked Questions
Where do I get the cars and/or bring them back ?
Private hire prices are for pickup and dropoff at our clubhouse just outside the center of Florence.
Address is
Via Gherardo Silvani 149 A
. You can reach us by private car, taxi (call 0554390) or on public bus 36 or 36A from the station or city centre.
More info on how to get to us in the General FAQs
What time can I pick up or drop off a car ?
You can pick up a Fiat 500 car at 8.30 am or 11 am, and return it at 5pm or 8.30pm.
Any other times will have to be arranged in advance (requires additional fees)
Once I show up, am I good to go ?
Yes, after you complete the vintage Fiat 500 double-clutch free training. Please allow 30/40 minutes to complete.
Please remember that you need to be a confident manual transmission driver to handle a Fiat 500.
If you are not best friends with a manual stickshift, you can always hire a Vespa scooter !
Can I rent the car for a half day ?
Sorry, at this time half day rental is nota available.
Any rules or tips on how to get the best out of our rental ?
People are usually very respectful of the Fiat 500. You'll be driving slowly, and they know you couldn't go faster if you wanted to :)
We ask people to stop for at least 15 minutes every hour maximum to let the engine cool down (it's air cooled!)
This also gives you a chance to enjoy the views and take lovely pictures of the amazing surroundings.
How many adults fit in a vintage Fiat 500 ?
2 adults will fit comfortably. 3 adults would be the limit, 4 would definitely be a tight squeeze, unless you request Totò, our station wagon vintage Fiat 500, in which 4 adults can fit comfortably.
2 adults and 2 children are generally a good fit (unless your kids are 21 and in a basketball team) :-)
What is included in my rental ?
One (or more, depending on how many you book) Fiat 500 vintage car
Third party insurance
Maps
A full tank of Gas.
Cars are provided to you with a full tank. If you bring them back with a full tank, there are no additional fee.
If you wish to avoid the inconvenience of the refill we're happy to take care of it for a 50 Euro fee.
Can I go nuts and drive to Sicily ?
Rental includes 100 km per day maximum.
We're not trying to limit your adventures but these are old cars, and they would seriosly malfunction if pushed too hard or too far.
Can I drive on the highway ?
The "autostrada" is not allowed with these cars, sorry.
Attempting to drive over 70 km/hr will probably get you flying into space, or at least it may feel that way with the car shaking that much !
Can I have the car delivered at my location ?
We can deliver a car anywhere in Tuscany, however transportation costs can be significant.
Provide the specific location for a delivery quote.