The Original and the best vintage Fiat 500 and Vespa company
Sunset Wine Tasting Vespa Tour
---
Have your happily ever after moment and ride into the Sunset on our Sunset Vespa Tour!
After you have become familiarized with your Vespa and understand its personality, our guide will lead the convoy on the adventure of a lifetime.
Feel the warm sun on your face as you take in the breathtaking view of the tuscan hills as we scoot into the past. We are enveloped in the cypress lined roads, endless vineyards and captivating olive groves.
After some memory capturing stops, we enter the grounds of a stunning 15th Century Villa where our guide will jump start the wine tasting experience with a Spritz cocktail.
We will finish it off with some Tuscan cheeses and cured meats.
Let the moon hit your eye on our Sunset Tour, and enjoy a glorious Dean Martin moment !!
ATTENTION SPECIAL STARTING TIME FOR THIS TOUR
January 1st to March 31st (start time: 16.00)
April the 1st to October the 1st (start time: 17.30)
October 2nd to January the 1st (start time: 16.00)
** Please be sure to bring your Drivers License and valid credit card.
Interested in a Fiat 500? See our signature vintage Fiat 500 tours!
Maximum 2 people per Vespa, weight limit 400 pounds

The tour starts and ends at our Clubhouse in Via Gherardo Silvani 149 A. For more info see FAQs
Previous experience riding a scooter is recommended. The Tour Leader reserves the right at his or her absolute discretion to terminate the participation of any rider who is unable to ride the Vespa safely.
---
Time : 5.30 pm-8.00 pm
Place : Via Gherardo Silvani 149 A, Firenze
Price : $ 110 per person
Highlights :
Introduction to the beautiful Vespa scooter
Driving through Tuscan and Chianti countryside
Lovely country views over Olive groves and Chianti Classico vineyards
Full Tour Commentary from an experienced guide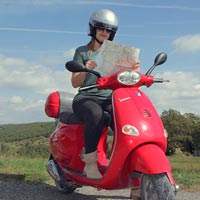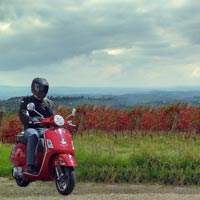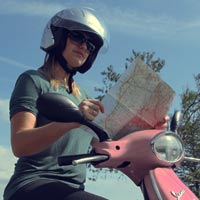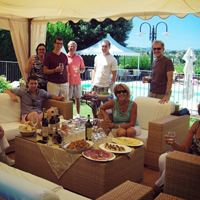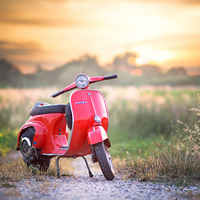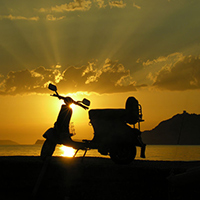 Top