The Original and the best vintage Fiat 500 and Vespa company
Fiat 500 Grand Chianti Tour, Siena Hills
---
An incredible opportunity for a
deep-dive in the uncompromising beauty of the Chianti classic region
, this tour will take you off the beaten path and in the heart of the
most beautiful part of Tuscany
.
We reach Castellina in Chianti with our courtesy bus and from there we proceed to the driving instructions and an introduction to the day ahead of us. As soon as we hit the road
you are immersed in resplendent hills, small hamlet-towns and vineyards
, curvy, open roads where every turn deserves a photo stop.
We get to Radda in Chianti where you have the chance to take a break from driving. We then stroll the
beautiful medieval center of this village, and maybe do some shopping
and take it all in. After stretching your legs in Radda, we resume the drive surrounded by
soft rolling hills
and the occasional wine-producing villa. Continuing the
breathtaking views of the hills and valleys.

At this point we can hardly wait for our fantastic lunch or better described as a feast filled with delightful Tuscan delicacies. Our meal will be accompanied by a professionally led wine tasting where you'll get to enjoy some of the best wines of the area directly from the producer. After some well-deserved relaxation and contemplation of the "bella vita" we walk the wine off with a Tour of the winery and if you feel like it, a leisurely stroll of the villa grounds where you can appreciate the panoramic view of the countryside.

At the conclusion of the Tour, we take a brief 5min trek behind the wheel of our Fiat 500 for the return to the starting point of our adventure.(Though you will agree there is no going back after having experiencing such a spectacular day!) Our courtesy bus takes you back to Florence.

This will truly be an experience that will highlight your trip to Tuscany!

** Prerequisites: Driving with Manual Transmission experience, Valid credit card, Valid Drivers License.
If you are not proficient with Manual Transmission, check out our Vespa Tours!
Pickup is at 9:00 at our clubhouse in Via Gherardo Silvani 149 A, Florence.

---
Time : 09.00 am-17.00 pm
Place : Via Gherardo Silvani 149 A, Firenze
Price : $ 245 per person
Highlights :
Courtesy bus ride to and from the tour starting point
Introduction and Safety Briefing of the Fiat 500
Leisurely drive in the midst of olive groves and Chianti vineyards
Walking/shopping break at your leisure
Professional wine tasting + full lunch of Tuscan produce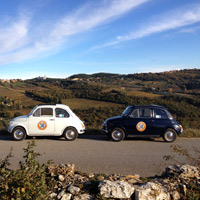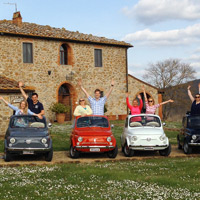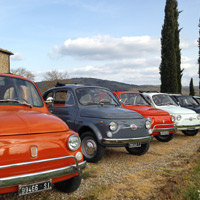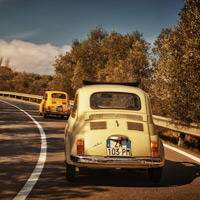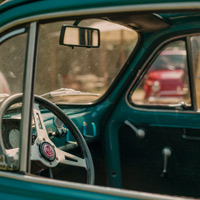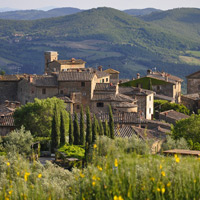 Top